Customer FAQs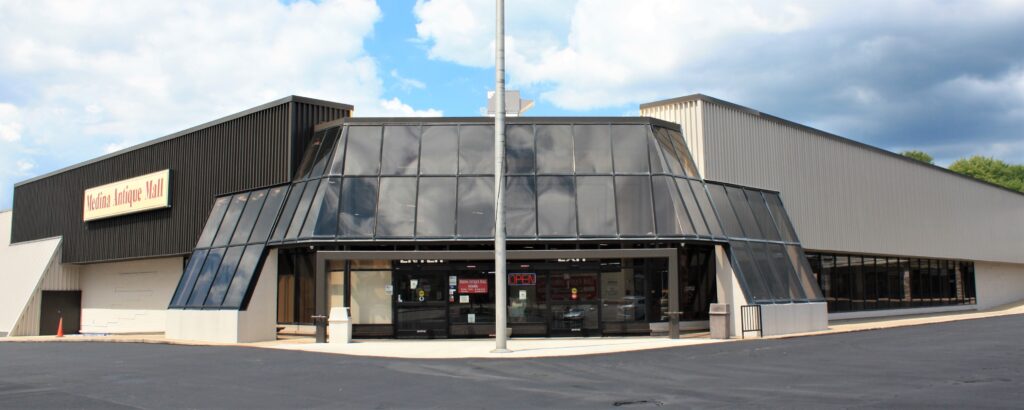 Answers to our most Frequently Asked Questions.
Where are you located?  We are located at 2797 Medina Rd, Medina OH  44256.  We are on Rt-18 just 1/2 mile east of the I-71 interchange — easily reached from I-71, I-271, I-77 and the Ohio Turnpike.
What are your regular business hours? Our regular business hours are 10am to 6pm every day, with extended shopping hours until 8pm on Saturdays.  Holiday hours may vary.

What types of items do your Dealers sell?  Our 250+ Dealers sell antiques, collectibles, furniture, dishware, glassware, jewelry, old books, clothing, comic books, vinyl records, toys and countless other items.  Truly something for everyone!
I have never been there — do you have shopping carts?  We do not have shopping carts, however we do have floor associates.  Our friendly floor associates are available to help you by showing items, holding items at customer service and carrying items to your vehicle if needed.
I need help, how do I find a floor associate?  Our floor associates are walking the floor to assist you.  If you don't see one, simply flip a customer service light switch located along the perimeter or in the main aisle and one of our team members will be with you shortly.
Do you have wheelchairs available?  Yes, the Medina Antique Mall has two wheelchairs for customer use available at Customer Service.  These wheelchairs are available on a first come first serve basis.
Are you pet friendly?  Pets that are held or are in enclosed strollers / carriers are welcome at the Medina Antique Mall.  In addition, certified guide / support animals are also permitted.  Unfortunately due to the nature of our business, we are not able to accommodate pets roaming freely.
May I contact your Dealers directly?  No. Our Dealers ask that we act as their third-party representative for all transactions.  In the event that a Dealer needs to be contacted, this will be handled by Mall Management.
Are your prices negotiable?  Prices are set by individual Dealers and the Mall is limited in our ability to negotiate.  Provided the item is not already on sale and is priced over $100, a customer is able to make an offer on an item.  Mall Management will then contact the Dealer, where the Dealer can either accept, decline or provide a counter offer.   Please understand that this process can sometimes take time to complete, so please plan accordingly.
I am looking for a specific item — do you have a mall-wide inventory?  Inventories are maintained by the individual Dealers, which we do not have access to.  The best approach is to ask our knowledgeable Floor Associates, as they may have seen the item you are looking for in their travels.  Alternatively, you can stop by customer service and we can add your request to our Dealer newsletter "wish list" section, which is published on a monthly basis.
I want to sell some items — Does the mall purchase items? No. The mall itself does not buy and/or appraise items. The mall does offer Saturday buying from 10am to 12 noon, where one or more dealers are available at the front to review your items for possible purchase. If your item is large or heavy, we suggest bringing in detailed photos to gauge the Dealer's interest. Please keep in mind that the decision to purchase an item, and the price offered, is solely up to the individual Dealer.  Our Saturday buying Dealers do rotate, so it's possible that if one is not interested, another may be.
What if I am interested in having a Dealer look at my item(s) and determine the value?  We have an event called Saturday Buying every Saturday from 10am until 12pm. The Dealers present may not be appraisers, however depending on the item and their expertise, they may have knowledge on how to go about helping you finding the value.
May my children come with me while I am shopping?  Yes.  We ask that children under the age of eighteen always be accompanied by an adult.
What if I get hungry or thirsty while I am shopping?  –On weekends, the Medina Antique Mall has a small coffee shop café located at the back of aisle 6.  They sell coffee, tea, soda, lattes, and expresso drinks, along with pastries and a limited selection of sandwiches.  On weekdays, there is a vending machine located in the café offering water, soda and snacks.  Water and soda is also available at the front customer service counter.
What if I purchase something and decide that I want to return it?  Due to the nature of our business, all sales are final.  We do not have a return policy.
If you have a question that is not answered on this page; or if you would like more information; please e-mail us at info@MedinaAntiqueMall.com or call us (330)722-0017.