About Us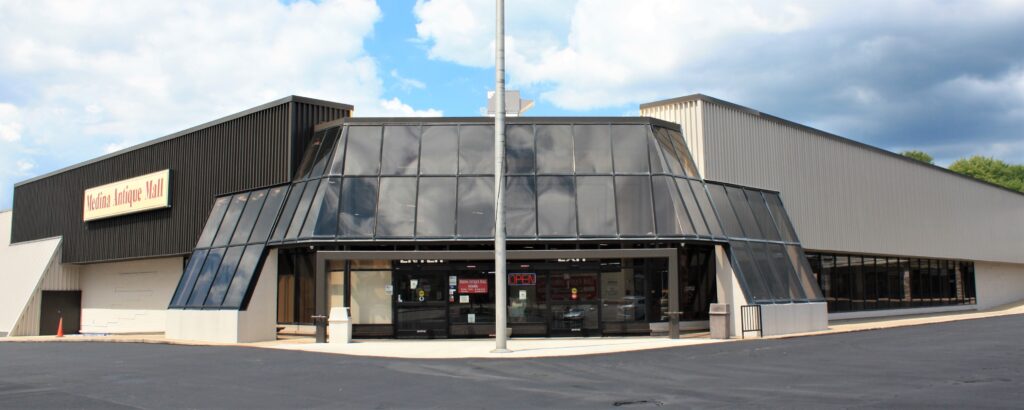 Our Business – The Medina Antique Mall has been a Medina county fixture for over 26 years. We are dedicated to preserving the memories of the past and creating the potential for making new ones.  We provide a large selection of vintage and antique items for our customers and for those not into antiques, our collectable rooms provide access to newer unique items, comics and toys to brighten your day.  Our mall is a locally owned small business that prides itself on hard work, dedication and exemplary customer service.  Walk through the door and explore what our 500+ Dealer spaces and 52,000 SqFt under one huge roof have to offer.  There is truly something for everyone at the Medina Antique Mall.
Our Mission – Our mission is to celebrate history and the beauty of craftsmanship by offering a wide range of quality antiques, collectibles, home furnishings and unique finds. Our focus is to ensure there is "something for everyone" by also having a wide variety of non-antique items including jewelry, coins, comics and many other items intermixed with our core merchandise.  We strive to create a welcoming environment that fosters a sense of community amongst our customers, dealers, and staff. We are committed to providing excellent customer service and ensuring that every visit to our antique mall is a memorable experience.
Our Approach to Sustainability – We understand the importance of sustainability and are committed to reducing our environmental impact. We believe that preserving and repurposing antique and vintage items is a sustainable way to promote a circular economy and reduce waste. We encourage our Dealers to donate old newspapers and boxes, allowing us to reuse these in wrapping our customer's purchases.  We have installed energy efficient LED lighting for both our general purpose lighting and also in all of our mall owned showcases.  We have replaced several of our older HVAC systems with more modern energy efficient models.   We are committed to doing our part to protect the environment and promote a more sustainable future for generations to come.
Our Dealers – The Medina Antique Mall is proud to be home to some of the finest dealers in the area. Several of our dealers have been continuous tenants at the mall for over 26 years. Our Dealers regularly visit to refresh and replenish their items, while also stocking and decorating for the seasonal holidays.
Our Employees – The Medina Antique Mall has some of the finest employees.  Their expertise, professionalism, and wealth of knowledge are an invaluable asset to our business!  Our employees are always willing to assist our customers with their needs — from questions about an item, to assistance locating/carrying items.
There is truly something for everyone at the Medina Antique Mall.