🏡 Fall into Fall this November! 🏡
As the leaves turn brilliant shades of gold and crimson and a crispness fills the air, it can only mean one thing: fall has arrived! At the Medina Antique Mall we are embracing the season, and we invite you to join us in celebrating the beauty of autumn. Whether you're looking for a warm, timeless piece of furniture to cozy up your home or unique decor to celebrate the season, our antique mall is a treasure trove. Vintage wooden desks, handcrafted quilts, and retro-inspired kitchenware will add warmth and character to your living spaces.  There is  something for everyone at the Medina Antique Mall.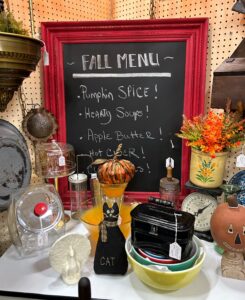 Fall Fashion Finds: Embrace the fall fashion trends with our collection of vintage clothing and accessories. From cozy sweaters, tweed jackets, and stylish scarves to classic boots and hats, our antique mall is your go-to destination to step into a world of vintage elegance.
Decorate with Vintage Flair: Decorating your home for fall has never been more fun. Explore our collection of vintage lanterns, candleholders, and rustic decorations that will transform your living space into a cozy autumn oasis.
Autumn Collectibles: For collectors, our antique mall is a treasure trove of unique finds. Discover antique kitchen gadgets, vintage toys, and rare coins that will make your collection even more special. These items are not just pieces of history but also perfect additions to your fall décor.
We can't wait to welcome you to our collection.
#FallintoFall #FallDecor #Thanksgiving #medinaantiquemall #antiques #Antiquemall #collectibles #homedecor #homefurnishings